Took my foot off the gas a bit over the last week due to the death of my grandfather, Archie. He was '92 and lived a healthy life right up until the end. I mention him here due to the ways in which he's creeped in to my song writing over the years. Most prominently in the song "A Thousand Words" on my Connections album. He was a war veteran, teacher, humanist, progressive left-wing thinker and quite possibly the most intelligent and wise man I've ever known.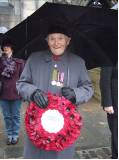 Apologies for the small picture, but this is him at the Cenotaph in Edinburgh on Armistice Day 2010. He was chosen to lay the wreath for the Humanist Society at the first time ever that they were included in the ceremony. It was a huge honour for him and he did us all proud.
I'm going to miss him a hell of a lot.
Back to stuff that I have forgotten to keep you updated with. Firstly, I went to the Pulse FM studios two weeks ago and recorded a live session and rambling interview for the Scottish Fiction Show. You can listen online to it here. Then, The Backroom gave the new album a decent review, comparing it to Green Day's Warning album (which made me very happy).
Also, I'm able to announce that I'm doing two dates with Ben Marwood in June. This will be Tuesday 4th of June at Cerberus in Dundee (with Davey Nolan too), and Wednesday 5th of June at Pivo in Edinburgh (and Mark McBabe)
Finally, tickets are starting to sell well for the RFPB show in April in Glasgow. Takes place at The Roxy171 on Great Western Road on the 11th of April. Joe McCorriston and Heather Bradshaw are on the bill, which means it is going to be brilliant. Tickets are available through wegottickets.
That's all for now, take care.